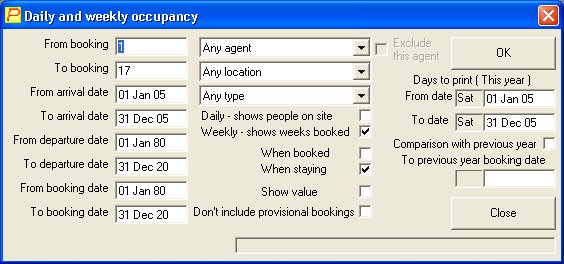 When daily – shows people on site is ticked, this report gives you a list, by day, of quantities of people by type, totals, and number of people arriving and departing. Set the days to print ( this year ) dates to get the days you are after. This report is intended to help the planning of site facilities.
When Weekly – shows weeks booked is ticked, you get 1 week per line, and columns for bookings, weeks booked, value and cumulative totals.
The comparison with previous year generates a complete statistical breakdown of bookings taken so far with bookings as they were this time last year. To use this, set the to booking date ( lower left ) to today, or the end of last week, tick Comparison with previous year, then clickOK. This particular report will take a couple of moments to calculate.