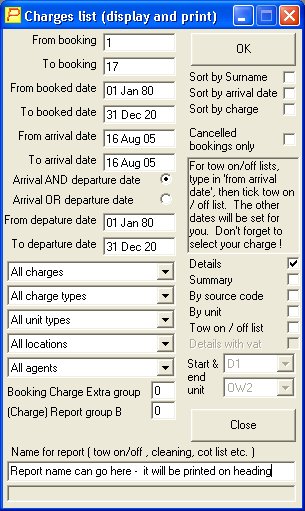 The charge list has many uses. Its primary use is to show lists of booking charges in various ways, as opposed to quantities of bookings etc ( as on bookings list ). By using the charges, charge types etc further filtering of these charges is possible.
The simplest is the details list, this shows individual booking charges for the dates etc you specify.
The next simplest is the summary, rather than showing each individual charge, it adds up all the charges of a particular type, and shows them totalled.
You can also add up booking charges by source code, to see income of various types of charge.
By unit is the same, but by unit. – For a different variation of this report, see booking value by unit or unit type, page 29.
The tow on / off list is for touring parks who also store caravans. It contains extra information you will need to find the caravans in storage, as well as details of registrations and booking information. To use this, select tow on / off list, then select towing charge from the charge types pulldown menu. Then click OK.