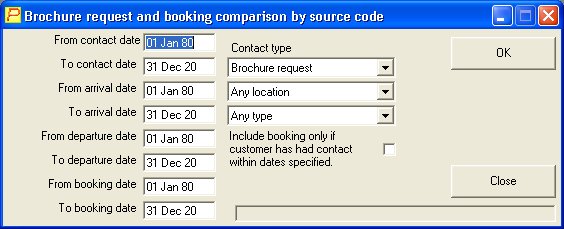 This report will show you the number of brochure requests for the selected period and then the number of bookings and their value, a conversion percentage, and booking values percentage.
Include booking only if customer has had contact within the dates specified, can be used to filter out bookings that may not be due to the contact you have previously had. You can compare one report done with it ticked, and the same without. The Contact type can be changed to on mailshot for instance, if you've marked those customers who were sent a mailshot. See section 6 on the mailshot form, page 33
Any contact type can be selected, so you could also for instance see how many contacts and bookings you had by people who complained, or what source codes you've got for customers who were blacklisted.